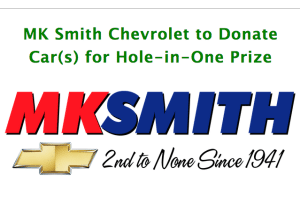 Our friends at M K Smith Chevrolet will be donating car(s) as Hole-in-One prizes at the Southern California Charity Golf Classic. How would you like to have a chance to win a car!?
Founded in 1941 by Meredith Kopp Smith, M K Smith Chevrolet has been owned and operated by the Smith family for 3 generations. We continue to be grateful every single day we open our doors for the wonderful loyal customers we have made throughout the years. Our customer base continues to grow by word-of-mouth due to the friendly and professional atmosphere created by our knowledgeable staff. From this we generate a high percentile of repeat and referral business allowing us to pass advertising savings to our clientele!
Marc Smith and Todd Smith continue to run M K Smith Chevrolet and value strongly the customer-first tradition their grandfather and father had before.M K Smith Chevrolet is a family owned and operated dealership that has very proudly been serving the area since 1941. Putting our customer's needs first has enabled us to have a strong repeat and referral business for the past 73 years. Yes, 73 Years! Something we are very proud of. Our goal is simple. Deliver exceptional service, both before and after the purchase.
As we get closer to the tournament we'll let you know what the ultimate prize(s) will be.
Thank you to Marc Smith from M K Smith Chevrolet for your charitable donation!
---
Keep up today with the latest updates on the tournament on Facebook. RSVP to the event at 
https://www.facebook.com/events/1409539772687503/
The Southern California Charity Golf Classic will be held on July 17, 2015 at Los Serranos Country Club in Chino Hills, CA.